Amazon is finally embracing Augmented Reality shopping. Anyone looking to purchase sneakers can first 'augment' them on their feet to try them on virtually, and see if they like them before they make a purchase.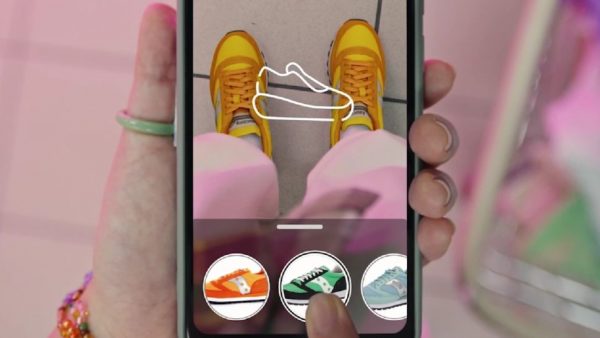 Joining a trend that is fast being embraced by other fashion brands, Amazon has launched an AR-based shopping functionality that enables you to virtually try on your sneakers before making a purchase. Amazon calls the new feature "Virtual Try-On" and it has been added to the retailer's mobile shopping app on iOS.
This AR shopping feature will also be available for t-shirts and eyewear brands and will enable shoppers to visualize how the product they are planning to purchase will look on them from all angles.
The Virtual Try-On feature is currently available for iOS users in Canada and the US and an Android version of the feature is also set to arrive soon.
The feature uses Augmented Reality to allow users to digitally pull shoes from various brands including Reebok, Puma, and New Balance onto their feet. You can even swipe through the different colors for a particular shoe type. Amazon says the feature gives users access to thousands of shoe variants to choose from.
Amazon wants the feature to inform consumers' buying decisions while simultaneously providing brands with a platform to showcase their products.
The AR shopping feature will be available for various brands on Amazon including Adidas, Saucony, Reebok, New Balance, Superga, Lacoste, and Asics.
When using the Amazon AR shopping feature, you will see a Virtual Try-On button on the detail page just below the eligible products. When you tap the button, you are asked to point your smartphone's camera at your feet.
The tool will enable buyers to virtually try on thousands of styles from the participating brands.
Amazon has made the tool even more interactive by enabling users to view multiple angles of virtual shoes simply by moving their feet. It allows you to swipe through different colors of one style of a shoe within the same virtual experience.
This is, however, not a sizing tool so it will not determine the correct size of your feet. However, you will find a size guide section on the product detail page.
Amazon has dabbled with AR shopping before. In 2020, the retail giant launched "Made for You," a custom clothing tool where users can customize and buy t-shirts. You can find the "Made for You" service in Amazon's Android and iOS apps. You provide body measurements and two photos of yourself and the service generates your perfect fit.
Amazon's latest AR shopping tool, the Virtual Try-On, is only available on its iOS app for users in the US and Canada but the online retailer says the tool will soon roll out on some of the best Android phones.
Virtual product try-ons and visualizations aren't a new concept and have been implemented by various retailers over the past few years. Nike, Snap, and Gucci have all implemented some form of AR shopping features. However, a giant retailer like Amazon embracing this is a huge deal and could create a ripple effect in the ecommerce world that could usher in an avalanche of AR shopping applications.
Amazon had implemented other AR features in its business. For interior design use-cases, the retail giant is already experimenting with the augmented reality app "Room Decorator". Amazon is reportedly working on another AR product that is billed to be a first in the world.
It will be interesting to watch how Amazon expands its AR shopping offerings as the technology continues to permeate the ecommerce space. Sony is already using Augmented Reality in the marketing of its televisions while Apple uses AR product visualization for product previews and also provides a direct iOS integration with QuickLook.
Could Amazon Usher in a New Era of AR Shopping
AR shopping is already a thing but it isn't mainstream yet.
Amazon has a massive product offering and should it choose to broaden the AR shopping features into more categories, it could be a signal of the positive effect of AR in sales which could usher in a mainstreaming of this technology in the retail sphere.
In any case, there is already a strong push from other quarters for these kinds of technologies in commerce. The consortium Khronos Group is strongly pushing for an open AR commerce standard that will allow vendors' software engines or 3D viewers to be tested for compliance upon which they will receive a certificate of compliance. You can find additional details on the 3D commerce standard on Khronos website.
Source: Amazon