Party game Among Us VR is releasing soon with a custom gameplay system, proximity voice chats along with multiple locomotion options.
Details of Among Us VR were shared at the Upload VR Showcase by developers Robot Teddy, Schell Games, and Innersloth. The highly anticipated VR port is based on the original deduction game by the same name.
Among Us is a party game sensation where groups ranging from 4 to 10 players get stuck inside a spaceship as they try to work out who among the group is the 'imposter'. The imposter wants to sabotage the spaceship takeoff and kill all the other players in the group without being discovered. The other players will vote on who among them is the imposter and must figure out how to smoke them out before they succeed in completely sabotaging the other crewmates.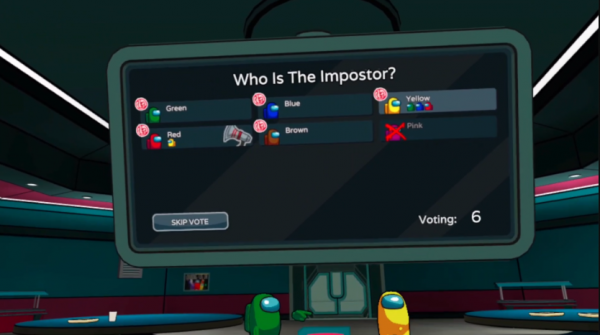 Among Us has basic 2D graphics but the main attractions of the game are its fun social dynamics, teamwork as well as the betrayal that comes out of its simple premise. In an immersive virtual reality environment, the game will, no doubt, have a more personal feel and may even be scarier as you will hear the footsteps behind you and worry about encountering a friendly face or the face of doom.
From the trailer of Among Us VR, it is also clear that the VR rendition will stay true to the essence and layout of the original map.
Among Us VR is launching on Meta Quest and PC VR headsets this holiday season. You will work alongside other players to finish a series of specialized tasks to prep your futuristic spaceship for a departure. You can also play as an imposter where you will be the spoiler, seeking to thwart the efforts of the other crew using any means at your disposal such as sabotage, lying, and even murder.
During the Upload VR Showcase, the developers provided a glimpse of what we can expect when the title arrives on virtual reality headsets later in the year.
The VR rendition of the game will, for instance, feature all that you'd expect in a custom gameplay system that has been built from the ground up for virtual reality. It will even have locomotion options and much more.
Below is an outline of the features the developer Schell Games confirmed at the Upload VR Showcase yesterday: –
Various hats for customizing Crewmates
Skeld II Map
Quick chat and Proximity voice chat
Single-handed and two-handed locomotion modes that have nausea-mitigating comfort option
The Core Among Us gameplay systems have been translated in virtual reality including sabotages, tasks, venting, as well as emergency meetings.
There is localization in 8 languages covering English, French, Italian, German, Chinese (traditional and simplified), Spanish (LATAM), Korean, and Japanese.
Achievements