Buried among the slew of announcements at the recently concluded WWDC 2022 was a new impressive AR room-mapping tool released by Apple earlier this month.
The tool is known as RoomPlan and is an ARKit Swift API that leverages the camera and LiDAR scanner found in some of the latest iPhones and iPad to generate a 3D floor plan of a room. The room plan produced even includes additional features such as the dimension of the room and the types of furniture inside it.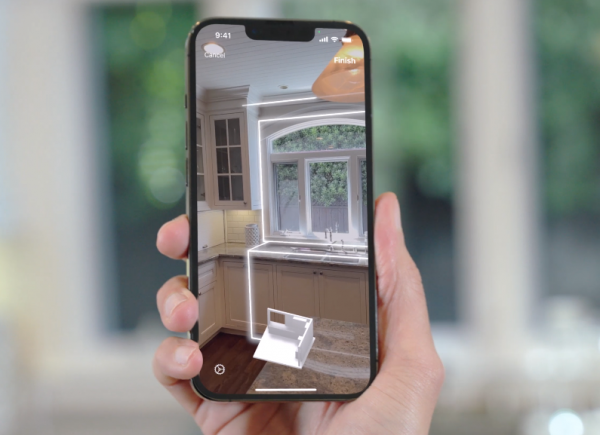 The new tool is aimed at professionals such as interior designers and architects who can use it for conceptual exploration and planning. It can also be used by real estate developers, in ecommerce as well as in hospitality apps. RoomPlan can be directly integrated into AR-capable apps.
Jonathan Stephens, the Chief Evangelist at the spatial computing firm EveryPoint tested RoomPlan when it was first released and provided the following review in a series of tweets: –
Follow along as I do a series of structured @Apple RoomPlan tests and share my findings/notes in this thread.

First up, I tried tricking RoomPlan with a large mirror. Surprisingly it wasn't fooled! Also, it was way off on french doors height.#WWDC22 #AR #ARKit #AI @Scobleizer pic.twitter.com/R4hJbO57Km

— Jonathan Stephens (@jonstephens85) June 7, 2022
The app can handle various situations that would be a lot more complex in a conventional environment such as a mirror seen from above, open and closed doors, messy spaces, windows as well as more complex architecture. However, the app isn't 100% perfect. In Stephen's tests, there are a few areas that simply didn't match.
Test #2 – vaulted ceilings. I noticed that the wall shapes have to be rectangular. It could not follow the slant angle of the ceiling line. This made parts of my walls much taller than in reality.

It did a great job at picking out the desks and bedroom furniture. pic.twitter.com/fbu5B9L3Ds

— Jonathan Stephens (@jonstephens85) June 7, 2022
For instance, vaulted ceilings, wall openings as well as the multi-floor areas in places like foyers were too complex for RoomPlan to accurately render. While it is not perfect, RoomPlan appears to provide some degree of autocorrect by approximating how stuff might best fit into place.
Here is probably the coolest find so far. When I look top down, the walls correct themselves based on some assumptions from Apple. pic.twitter.com/KblqeLYm5x

— Jonathan Stephens (@jonstephens85) June 7, 2022
While its primary use-case will be in app integrations, it can also be put into other uses. According to Apple, RoomPlan outputs content in USD and USDZ file formats which also contain the dimensions of every component that it identifies in the room like walls and cabinets and even the type of furniture detected.
You can finetune the scans with RoomPlan by adjusting the dimensions and placement of individual components when exporting them into various USDZ-compatible tools such as AutoCAD, Cinema 4D, and Shapr3D.
Although various leaks and rumors abound, Apple has been mum about its virtual reality and augmented reality plans or its much-rumored mixed reality headset (codenamed N301) and augmented reality glasses. A mixed reality headset or AR glasses would still need considerable space mapping capabilities. Apple releasing tools like RoomPlan with its current platforms shows the company is still on course with its XR plans.
Below are a few details about Apple's rumored mixed reality headset: –
It is codenamed N301
The N301 mixed reality headset is to be the precursor to another rumored full-fledged augmented reality device likely to be called Apple Glass.
The N301 will feature several cameras for room-scale tracking, hand tracking, eye-tracking, as well as passthrough AR.
The N301 mixed reality headset could be priced at about $3,000.
According to rumors from supply chain analysts, the headset likely features MicroOLED displays with a target density of 3,000ppi.
A launch date of early 2022 had previously been reported although latest reports now mention a 2023 launch window.