You can now purchase fashionable outfits for your avatars in Meta's digital fashion store.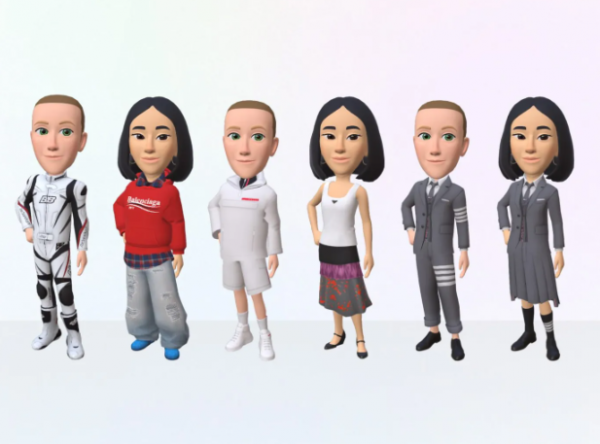 Zuckerberg announced the launch of a digital designer clothing store for avatars yesterday, 17 June 2022. The avatar fashion store is called "Meta Avatars Store". Zuckerberg relayed the announcement in an Instagram Live with Eva Chen, who is the VP for fashion partnerships at Instagram.
Avatars are a projection of ourselves in virtual reality environments and it is likely there is a sizable userbase that wishes to adorn their avatars with fashionable avatar clothing to personalize their presence and express themselves in the metaverse.
The new avatar fashion store will be launching on Facebook, Messenger, and Instagram and will enable users to shop for digital clothes with which to kit their avatars.
The store will open its doors next week and will initially feature clothing items from the top fashion brands Prada, Balenciaga, and Thom Browne.
Meta has not provided any pricing details for the digital fashion outfits but this will be known next week. However, the launch of the designer avatar fashion merch will not do away with the pre-existing free clothing options that are already available for Meta avatars.
According to Zuckerberg, Meta wants the store to be an open marketplace where developers will be able to design, create and sell clothing items for avatars with which users can style their digital personas.
During the launch, Zuckerberg noted that digital goods will be an important way through which users in the metaverse will express themselves and will also be a major driver of the creative economy in the virtual worlds. Zuckerberg further notes that he plans to add more fashion brands to the Meta Avatars Store and that he also wants to bring this experience to virtual reality soon.
The Meta Avatars Store will initially be available in the United States, Canada, Mexico, and Thailand.
The announcement comes on the back of Meta's efforts to enhance its avatars as the company continues to devote its efforts towards building the metaverse even as some of its core metaverse projects have seen funding cutbacks this year.
Meta also introduced 3D avatars to Instagram early in the year as well as updated avatars to both Messenger and Facebook. The updates to the avatars early in the year added faces, more expressions, skin tones as well as accessibility devices for avatars.
Meta is also planning to allow users to pull in the same avatar across all its platforms, including virtual reality.
Source: Venture Beat