Emerge Home's "Wave-1" is an ultrasonic-powered tabletop device that is designed to bring the missing haptics into the virtual reality environment by enabling you to physically feel what you are seeing in virtual reality. The device is also compatible with Meta Quest 2.
Emerge describes the tabletop device as a new standard in the metaverse that enables you to feel without the need of controllers. It gives you bare hand tactility in immersive environments for improved shared experiences.
Emerge Wave-1 works by projecting ultrasonic waves around both virtual objects and interactions. Users can feel the mid-air ultrasonic force for a distance of up to 3 feet above the tabletop device as well as a beam angle of up to 120 degrees around it.
The plate weighs about 2.5kg. It also supports a wireless connection via WiFi a/b/g/n/ac and BT5.
When a user puts their bare hands above Emerge Wave-1, they are able to physically feel what are they are seeing in the Emerge Home Quest 2 app.
The Wave-1 device works by projecting mid-air tactile points which are programmed into volumetric tactile effects.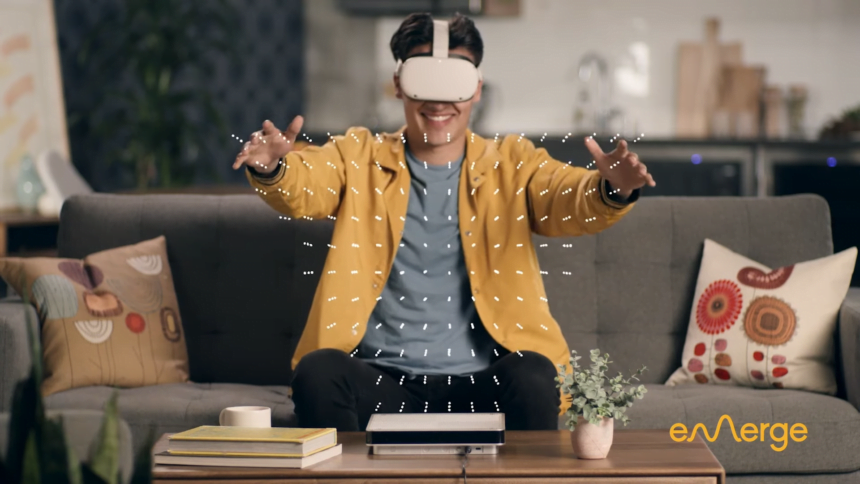 When these tactile effects are combined with virtual objects, avatars, and virtual environments, they give you the tactile experience. The Emerge Wave-1 device enables you to feel unique sensations that can elevate not only the gameplay but also the virtual interactions inside the Emerge Home Quest 2 app. You will, for instance, get a rush of "precise mid-air" pressure whenever you stretch your hands to hold someone's hand. The haptic sensation can also be in the form of an energetic beam that players can direct using their palms in order to shatter incoming asteroids.
Ultrasonic Haptics for Virtual Reality and More
In conjunction with the Meta Quest 2 headset, the Wave-1 should make the outlines of virtual objects perceptible through ultrasound. In reality, you will feel what you are seeing in the virtual reality headset as long as you keep your hands over the plate with a Wave-1 compatible app running.
Emerge provides a smartphone app that comes with various mini-games as well as a social application. To keep up with its intended use, Emerge delivers the input via a VR controller and relies exclusively on hand tracking as the interface.
The manufacturer says, its Wave-1 product does not recreate real textures or solid materials but is, instead, an experiment to determine what "a new language of touch" could look like and how it would work in Virtual Reality. In Wave-1, up to 7 people can meet in a social VR environment simultaneously and do, among other things, test simple, haptic-based systems or even shake hands.
Emerge Fundraising on Kickstarter
Emerge says the prototype of its haptic plate has been under development since 2016. In principle, this is not a new concept. Ultraleap, formerly known as Ultrahaptics, has been building small ultrasonic carpets for XR and other interface applications since 2014. However, Ultraleap Ultrasonic is not available as a simple haptic app for Meta Quest.
Prices for the Wave-1 device will start from $450. However, at the moment, there are no virtual reality apps that run with the ultrasonic tabletop device outside the Wave-1 demos and this will likely not change in the near future. Users will be dependent on further software support from Emerge.
The Wave-1 device is, thus, more of an expensive gadget for the adventurous virtual reality enthusiasts with the deep pockets to splurge on some extra gimmicky accessories.
Should emerge successfully complete the Kickstarter campaign, its Wave-1 device should arrive by September 2022 at the earliest.