Meta is implementing a massive hiring freeze following its failure to hit revenue targets, internal memo shows. The scaling down in the company's investments will affect Reality Labs.
Meta is set to put in place a massive hiring freeze while also cutting back on hiring targets. The move will have an impact on "almost every team" across the board, the company's CFO David Wehner told staff in an internal memo.
This is a surprising about-turn for a company that made a major pivot to the metaverse only last year and which has been pumping billions of dollars into the development of the metaverse. Meta's bid to build the hardware and software foundations of the metaverse has proven too costly for the company. The company also saw a 40% decline in its stock this year. Meta says it will now be "reprioritizing".
The announcement was made by Meta's chief of engineering Andrew Bosworth an internal memo. The report did not indicate which projects that cuts would affect.  Reality Labs took over a number of moonshot projects from Facebook's research department Building 8, including projects on brain interfaces. Meta spokeswoman told Reuters that the Reality Labs could no longer affect the projects and some projects would have to be postponed. However, the company is not planning any layoffs.
In a recent investor call on second-quarter sales figures, Zuckerberg had said that investments in the company's metaverse business would be throttled and that the company would prioritize short-term financial goals which would mainly be its core advertising business with Facebook, Instagram & WhatsApp which currently cross-finances Meta's metaverse investments.
In the past quarter alone, Meta invested $3 billion in XR development at Reality Labs and these expenses were offset with XR sales of just about $700 million.
Rethinking Priorities
In his memo to employees, Meta CFO David Wehner said that following recent business results, the company needed to focus on "targeted and balanced investments" that support its key strategic priorities.
Wehner also cited Apple's iOS advertising restrictions, the Ukraine crisis, the generally difficult macroeconomic environment as well as short-term rapid growth in the pandemic years as reasons for the company's recent sluggish growth.
Wehner's memo also talked about internal restructuring to fortify the projects that will be prioritized this year.  As the company's possible future growth drivers, Wehner cited the monetization of reels on Instagram, AI in the ad system to overcome iOS bottlenecks, business messaging as well as the realization of the metaverse.
Meta will now be more prudent with its metaverse investments because unpredictable market forces piled pressure on the company's core business in recent months.
The memo says the company needs to reassess its priorities and make some difficult decisions on the projects that Meta will focus on in the short and medium-term so as to realize the cost reductions that the company promised at the investor conference early this month.
Here are screenshots of Meta's internal memo: –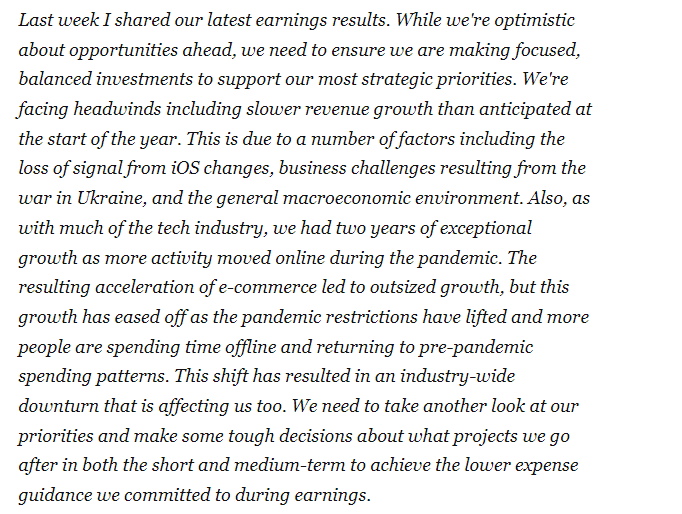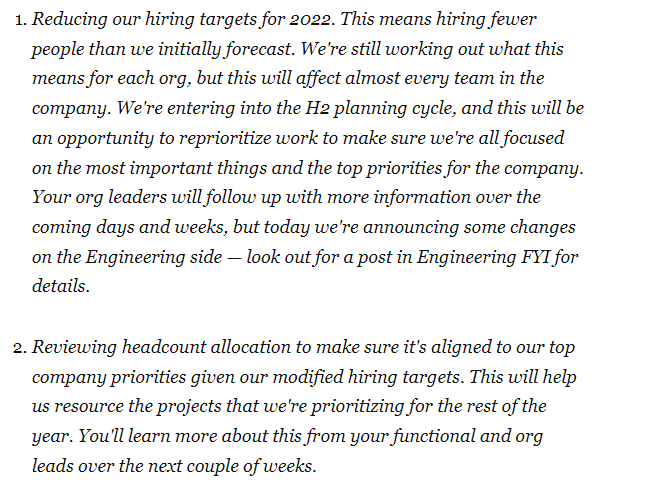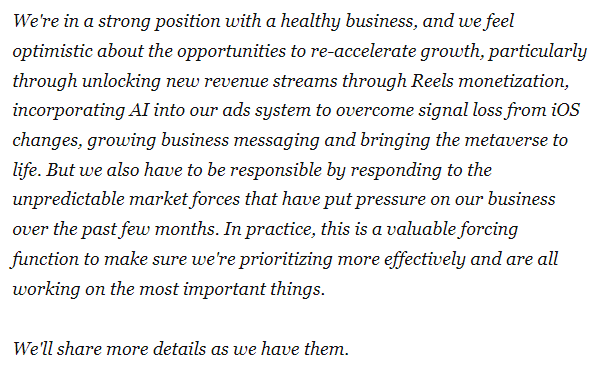 Source: Business Insider