The Nreal Light and Nreal Air mixed reality glasses will soon be streaming Steam games onto a large digital screen.
These two mixed reality glasses are both connected to an Android smartphone using a cable and they then stream games from a user's PC through WLAN onto a virtual screen that is directly in the line of sight of the wearer. This will presumably be done via an app mimicking the functionality of Steam Link. It offers a project surface that equals a 200-inch screen at a distance of 6 meters.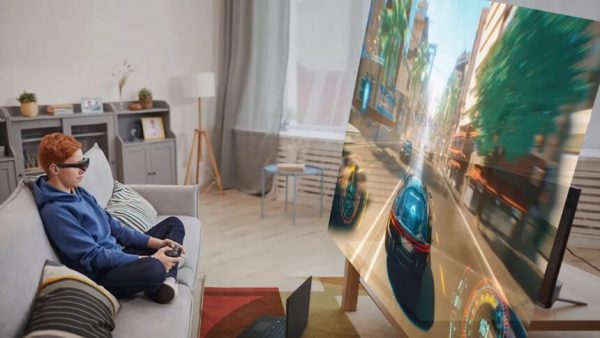 This feature is coming in beta at the end of June and according to reports, it is yet to be refined. Nreal notes that this feature will need "a bit of setup" and that it won't be compatible with all games.
When it launches, it will work with games such as Dirt Rally and Halo Games among other titles. Nreal is also planning to provide broader compatibility at a later date.
The augmented reality features of the Nreal Light mixed reality glasses aren't where everyone else would expect them to be and the glasses are still only ideal for video streaming application scenarios.
Nreal, too, appears to have come to the conclusion and has already scrapped AR functions entirely in its upcoming tech glasses called the Nreal Air which will provide pure streaming functions. Reducing the technical complexity in the Nreal Air glasses means the mixed reality glasses have a more compact form factor and retail at lower prices. The Nreal Air tech glasses are currently retailing in the UK market only.
To coincide with the launch of the Steam streaming service, Nreal has also organized a hackathon known as AR Jam set to take place between June 27 and July 27 where the Chinese mixed reality hardware maker is promising prize money totaling $100,000 and an opportunity to win the Nreal Light dev kits.
Nreal is encouraging developers across the world to create new augmented reality apps for its ecosystem that will target categories such as art, fitness, video, gaming, NFT, and social use-cases. Nreal is also encouraging developers to create ports for its Nebula operating system. Check out additional information on Nreal website.