Toyota's heavy and commercial vehicle division has adopted multiplayer VR training for its repair and maintenance staff at the Toyota Material Handling. The VR training program was designed and developed by Toyota's Virtual Reality division VR, Vision.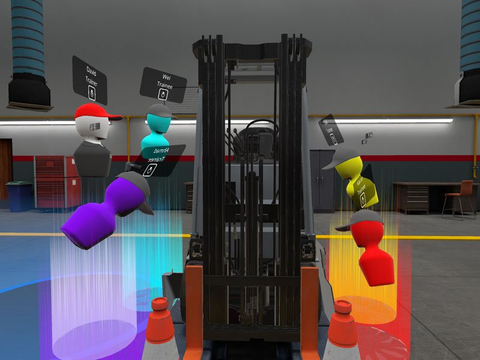 The Virtual Reality workplace training scheme has been designed to help the company reach more of its employees. The program will be available throughout Toyota's dealership network in the US.
The Toyota division embracing VR training deals with forklifts and other heavy commercial vehicles. The VR training will supplement the existing training that the company already does for its personnel with real equipment.
Toyota Material Handling will use Meta Quest headsets to develop the VR training programs for its dealer network. Up to 300 Quest 2 headsets will be deployed for the program. The company's VR division VR Vision will create the content in a 3D platform and also assist with device setup, LMS integration, change management consulting, and others.
VR Vision and TMH believe that virtual training will be both low-cost and scalable for enterprises needing to routinely train new staff on both current and future projects.
TMH's collaborative multiplayer virtual training simulation integrates digital twinning as well as the modeling of material handling equipment which immerses users in a fully 3D environment where they are able to connect and also interact with parts, trucks, and tools from pretty much anywhere in the world. There is real-time interaction between trainers and trainees which creates a new kind of learning environment and helps prepare professionals for work in industrial environments.
The company's Training Manager Holly Brotzmann stated that although it prefers on-site physical training, it is incorporating VR training because not all of its dealerships have the product inventory for use in training, particularly in its heavy-duty segment. Brotzmann said that Virtual Reality technology allows the company to supplement the company's existing programs inside an environment that will be accessible to the whole of its North American dealer network.
Virtual Training with Digital Twins
VR training comes in handy, particularly in the vast US, where it is difficult to bring employees and vehicles to one location for training.
Under the new Virtual Reality training program, employees with VR headsets can meet in virtual rooms and partake in the exercise. The VR training gives employees access to virtual replicas of the real machines and allows trainees to examine or edit details up close.
Trainees will also be able to interact with material handling objects such as trucks, parts, and tools in real-time. The initial VR training programs will be limited to the part identification but the company is planning to incorporate more complex repair and maintenance procedures into the program.
The development of the company's VR training programs began with the Oculus for Business. Meta later switched its B2B solution to Quest for Business where there was a switch to the OpenXR interface. Toyota plans to use other standalone virtual reality headsets from other companies like Pico and HTC and use these in their training programs.
Companies with stringent security requirements need reliable and modifiable training. The company will divulge additional details on its VR training program in its Toyota Forklift blog.
Toyota and VR are the leading automotive companies pushing VR training programs in the processes. The company's commercial vehicle division recently a published a report on the benefits of Virtual Reality training with a haptic glove.
Source: Press Release