The AR glasses will have a wristband input.
Alex Heath from The Verge published a report last week that details Meta's plans for AR glasses in the next six years.
Meta has frequently confirmed that it has been working on its own augmented reality glasses. Reports of Meta's AR glasses go all the way to 2016. In late 2019, Meta revealed that a possible launch for its AR glasses could just be "a few years out".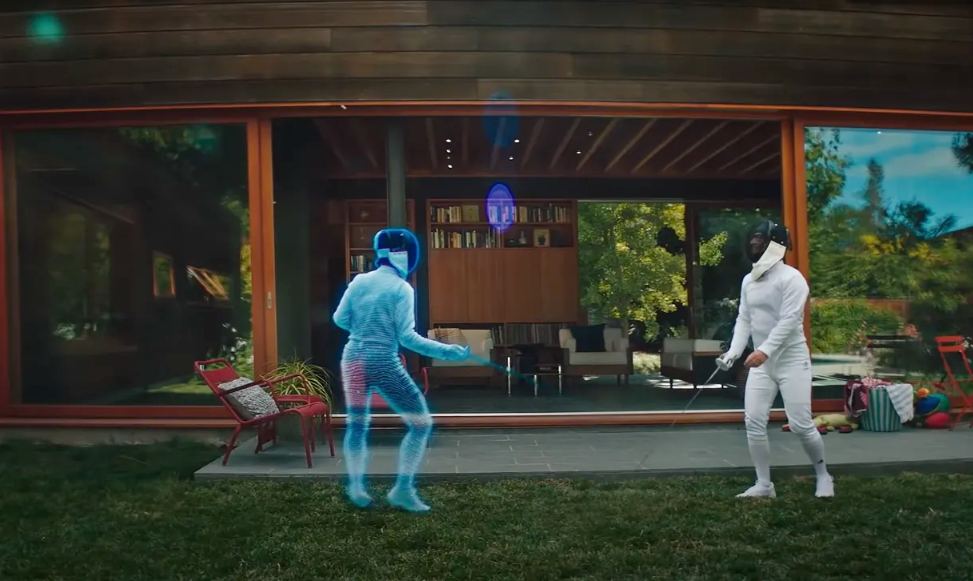 A report by the Korean tech news outlet The Electronic Times also stated that Samsung will be manufacturing a custom tracking chip to be used in Meta's AR glasses. Another report from The Information stated that Meta had resolved to purchase years of AR output of the augmented reality microLED display manufacturer Plessey.
Meta's Project Nazare Will Cost a Fortune
During Meta's Connect conference in October 2021, the company announced Project Nazare, describing it as its "first full augmented reality glasses". However, as is customary during the showcase, Meta provided neither a physical prototype nor footage of the product that it is working on. Instead, the company showed a short "simulated" concept clip of the project. At that time Zuckerberg had remarked that although the project still had "ways to go", his team was making "good progress".
According to The Verge report, Meta is planning to release the Nazare product as early as 2024. The device reportedly weighs 100 grams and has a form factor that is approximately four times that of normal glasses and apparently looks like Clark Kent's thick black frames. The Nazare AR glasses will have a battery life of about 4 hours and will draw their power from an included wireless puck that can fit inside a user's pocket. The concept is such that future iterations of the AR device will be able to fully replace the smartphones that currently permeate our digital lives.
The target field of view for the first generation of the Nazare is 70 degrees although The Verge reports that this goal will probably not be attained.
The components in the device that are required to bring out the true AR experience such as eye-tracking cameras, microLED projectors, and custom waveguides reportedly cost thousands of dollars. The first generation of Nazare will, therefore, be relatively costly and will be best suited for developers and early adopters.
Meta has already pumped billions of dollars into the development of Nazare. The company is planning to unveil a lighter and more advanced second-generation version of the AR glasses in 2026 with a third-generation set to arrive two years later in 2028.
Hypernova HUD Glasses Will Be an Affordable Alternative
The Nazare AR glasses will be exorbitantly priced and will be targeting early adopters and enterprise users. However, Meta is also planning to release cheaper mainstream AR glasses in 2024 which have been codenamed Hypernova.
The Hypernova HUD glasses will be paired with a user's smartphone and will display notifications as well as contextually useful information via a small HUD display. It will be like Google Glass but packaged inside a regular glasses frame.
Two weeks ago, The Information also reported that Meta is planning to launch a second-generation version of its Ray-Ban Stories smartglasses in 2023. The Ray-Ban Stories smartglasses are camera glasses. Although they do not have displays, they have speakers for phone calls and music. The Information report suggests that the second-generation Stories will also not feature a display.
In his The Verge piece, Heath has described the Hypernova glasses as separate from Meta's Stories smartglasses. It's unclear what these glasses will be given that Meta already has the lite Stories smartglasses and also has several more advanced AR glasses planned in the next two to six years.
Both Glasses to Have a Neural Wristband Input
One of the major challenges with consumer AR glasses at the moment is the dearth of a good input method. The typical virtual reality controller is not suited for smart glasses, with their small form factors, that allow you to wear them outside your home.
Voice recognition technology is currently pretty advanced but in practical usage environments, few would want to dictate text loudly in front of strangers. A more practical input method would be typing out the text on a virtual keyboard. However, typing can be tiring and does not give you the tactile feedback of touchscreens that our muscle memory has adapted to over the last three decades of computing. Tactile feedback is already at an advanced stage of development but it is not convincing enough to give you the desired level of immersion.
Both the Hypernova and the Nazare smart glasses will ship bundled with Meta's neural wristband. Meta has been divulging details of the development of its neural wristband which can read neural signals passing through the wearer's arms from the brain. It reads these through electromyography (EMG). This kind of device is capable of tracking finger movements before you even physically move your fingers. The device will even sense the subtlest of finger gestures that may not be visually perceptible to people close by.
In early 2019, Facebook filed a patent for this kind of wristband device. Additionally, the US-based startup CTRL-Labs has also been working on this concept which prompted then Facebook to acquire the startup in late 2019. Facebook provided a detailed demo of the wristband device in 2021.
The Verge article suggests that Meta will be releasing a regular smartwatch later in the year with the second generation of the wristband planned for next year. The third generation will arrive in 2024 and will integrate the EMG technology. It will be bundled with the Hypernova and Nazare smart glasses and will serve as the control method.
People who have had a look at Meta's smart glass prototype have described it as an impressive device. It can be used at scale and Meta believes the device will feature the next keyboard and mouse.
Meta Transitioning into a Hardware Company
Should The Verge's report prove accurate, the developments could see the company transition from a software and services company into a major hardware manufacturer in the immersive market niche.
Meta will also have to contend with serious competition from the major tech players such as Apple which is set to release an AR headset in 2025 and Google. Both of these companies are also buying up the suppliers of the components used in making the AR glasses.
However, Meta has a head-start in the rollout of smart glasses as it has been working on the technology for the past 8 years. The company is also making the biggest investments in AR at the moment. Zuckerberg is said to be obsessed with the actualization of the AR glasses which he wants to be the next iPhone moment that would, possibly, even replace smartphones and digital computing as we know it.