Aptly named Nevermet is a dating app for the metaverse era that enables you to enjoy love and intimacy with avatars in the metaverse.
"Nevermets" is a term that is already widely used in the internet dating era. In Urban Dictionary, nevermet is defined as slang that refers to couples in an online relationship who have never met in real life.
The dating app Nevermet, just like its mobile equivalent Tinder, is a dating app where you can search and hook up on dates except that in this case, you will be searching for either Virtual Boyfriends (VBFs) or Virtual Girlfriends (VGFs).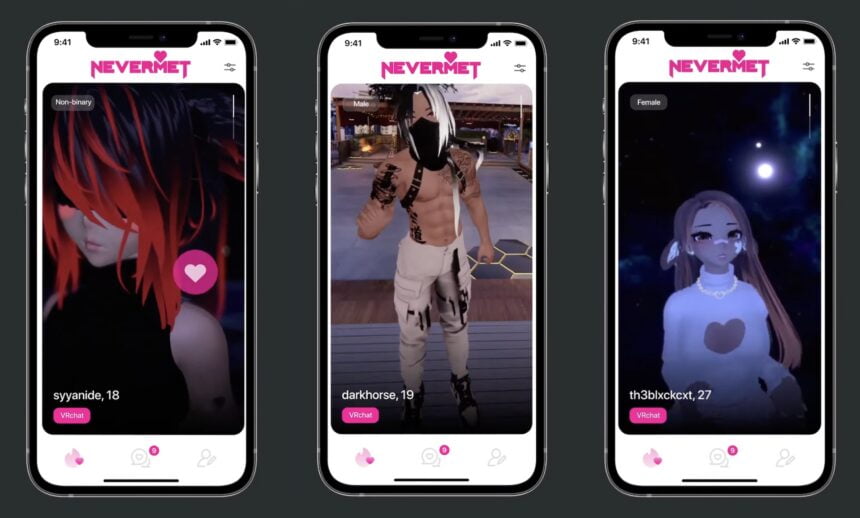 If what we know today as the cyberspace gives way to some pervasive metaverse, these kinds of interactions will probably become a lot more common and might even replace real-life relationships and connections.
The Metaverse Tinder Only has Avatars
As you would expect in a metaverse, you will only be interacting with avatars in Nevermet rather than real faces. The developers have further emphasized that no personal photos are allowed on the platform and the profiles are controlled by a moderator. In the absence of a real profile image, there are other things that factor into the metaverse relationship such as a person's voice.
However, the rest of Nevermet is more familiar to those who have used dating apps works just like Tinder and similar dating platforms. Users create a profile and specify the gender and age group that they are interested in dating. Rather than providing a physical place of residence, they will enter a virtual address. The locations have names such as Rec Room, Horizon Worlds, and VRChat.

Once your profile is ready, all you have to do is swipe to find your perfect metaverse match. You can send texts to one another and even set up a virtual reality date. Nevermet isn't just for romantic entanglements. You can also use the platform to find new friends.
It isn't clear at the moment the extent to which the metaverse will pervade our lives a decade or so from now but if it does turn out into something like the cyberspace, metaverse dating might actually be a serious thing in the future.
The Nevermet platform was developed by Solaris Nite and Cam Mullen. The two have also worked on other social VR apps such as Cheerio, Somewhere, and Couch.
Cheerio is a VR matchmaking platform where users can make connections with one another and has proven to be particularly popular which prompted the duo to work on the idea further and come up with a metaverse dating app. Nevermet has attracted investments from Boost VC, Anorak Ventures, Draper, and Greg Castle.
A metaverse dating app could have some potential even if Zuckerberg's lofty goal fails to materialize. Even without virtual reality headsets, a lot of young people are enthusiastically embracing these kinds of "de-personalized" digital environments for gaming, social connections, and video conferencing. For many of them, metaverse dating based entirely on anonymous avatars that they won't probably get to meet in real life is perfectly logical. Check out the documentary 'We Met in Virtual Reality' to further understand the ways in which this is taking shape.

Metaverse dating might seem unreal and nerdy but at least the participants don't have to grapple with physical attacks. However, metaverse platforms aren't immune from virtual "physical" attacks such as the famous case of a person who had their avatar groped in Horizon Worlds. Meta responded with a four-foot personal boundary feature to help deter future virtual groping.