Niantic is releasing an Augmented Reality map for other apps along with a location-based social network known as Campfire.
Niantic's AR mode is far from perfect. It still needs some tweaking to make it more immersive and collaborative as a gaming platform. With the launch of the Visual Positioning System, Niantic is looking to change this and add much more, in changes geared at making it a platform on top of which other developers can create location-aware Augmented Reality (AR) apps.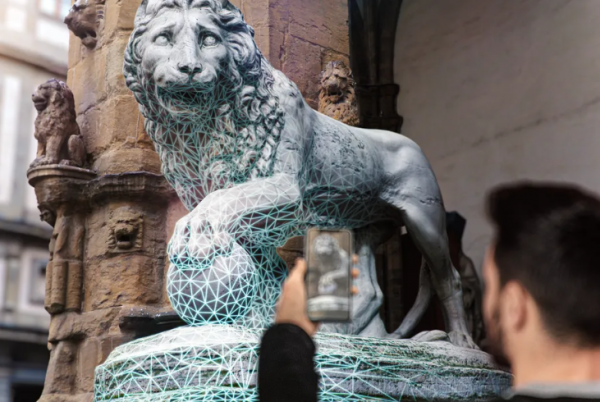 Niantic has been working on this for the past four years (since 2018). This week, it takes a quantum leap with the release of its location mapping software for AR which it has named Visual Position System or VPS (a play on GPS).
The Visual Positioning System technology allows augmented reality experiences to be grounded in physical locations such as a park monument or in front of landmarks so they no longer merely float aimlessly via a user's phone camera view.
The VPS can now be used by developers as a tentpole feature of the broader Lightship SDK which enables multiple devices to access a shared augmented reality experience such as in a 3D multiplayer game, simultaneously.
Visual Positioning System will be free in its initial public beta but it will switch to a tiered billing system later in the year. The billing will be levied according to an app's number of monthly users.
Apart from the Visual Positioning System, Niantic is also releasing a location-based social network called Campfire.
Campfire will integrate with Niantic's games as well as future apps using its Lightship SDK platform. Campfire will plug users into their Niantic account's list of friends and will show their locations should they opt in. Users can even organize and RSVP to real-life meetups for the experiences like a Pokémon Raid or chatting with other players in a group. Campfire aims to make Niantic games more social while still giving other developers an opportunity for their Lightship-powered apps to be discovered by Niantic's millions of users.
Niantic's Visual Positioning System is powered by the crowdsourcing of millions of phone camera scans captured from real-world locations by both Pokémon Go and Ingress players. Niantic says it has 30,000 VPS-activated locations from around the world as well as centimeter-level precise maps for large parts of New York City, Tokyo, San Francisco, London, Los Angeles, and Seattle.
Through the addition of the location layer, Niantic wants to provide critical infrastructure for Augmented Reality apps, be they on smartphones or smart glasses. Developers that have large user bases will be charged for access to the server-side aspects of Lightship such as its multiplayer functionality and the VPS. This will be a potential new revenue stream for Niantic on top of the considerable amount it already generates from Pokémon Go. However, Niantic CEO John Hanke has said he is not expecting the Lightship platform to be a significant source of revenue in the near term.
Niantic acquired the startup 8th Wall a few months ago. The startup sells Augmented Reality development tools for the web.
Niantic is planning to keep 8th Wall running and also integrate Lightship thereby allowing browser-based AR experiences access to its mapping tech. As the bigger players like Snap and Meta focus on AR developer tools, Niantic wants to focus on offering a toolkit that can work anywhere via a web browser.
Niantic says it wants to create tools designed for those that want to develop cross-platform apps that they can own and control. Niantic says that these are applications that can exist on their own rather than relying on someone else's service and which entire companies can be built around.