Meta will now allow creators on Horizon to sell virtual items on Horizon, heralding the first step towards the monetization of the metaverse platform.  The platform has launched a pilot program that will allow some of its creators to monetize their work by selling their metaverse merch or charging for access to their experiences inside Horizon Worlds. Factoring in 30% Meta platform fees and up to 25% Horizon cut in the remainder, creators will barely be left by 53% of their earnings before tax. The move has raised a great deal of furore online.
Meta is currently in the process of experimenting with new features on the platform that will allow creators on Horizon Worlds to make money off the platform by selling their virtual items and experiences on its Horizon metaverse platform. Horizon Worlds is a social VR platform for Quest that will soon be available on mobile phones and even on game consoles.
The monetization will enable a handful of creators on Horizon Worlds to sell both virtual items and experiences in the meta worlds that they have created for other users to explore on the social metaverse.
This will enable creators to sell everything they create on the platform including access to VIP sections of their metaverse worlds on Horizons as well as virtual items such as virtual jewelry. Participants in the program who are based in the US will also benefit from Meta's $10 million creator fund that was recently unveiled to incentivize creators that are building more engaging metaverse worlds.
Meta's experimentation with "in-metaverse purchases" is following on the footsteps of other social VR platforms such as Rec Room and Roblox; both worlds allow creators to monetize their work by selling their virtual items created in the respective worlds. Roblox has already leveraged this monetization model to create a lucrative business that is worth close to $2 billion dollars. Rec Room is also rapidly expanding and prioritizing its creator monetization.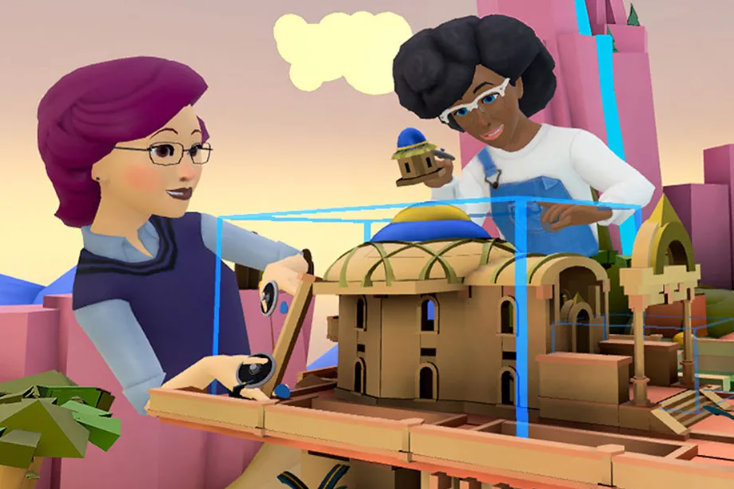 Earning Real Money Inside the Metaverse
This will be a lucrative opportunity for creators in Horizon Worlds, allowing them to earn real money in their engagement in the intangible metaverse. Participants in the test program will create items for sale under a separate trade tab. These could be items such as some mystical key for a locked area in the worlds. They could also include clothing or playful items such as a virtual basketball.
Meta's share in the revenue will be significant. According to Horizon World's Vice President Vivek Sharma, Meta will be levying a platform fee of 30% on the sellers. This is equivalent to the share that game and app studios also pay in the official Oculus Store.
Of the remaining 70%, another 25% will be deducted in Horizon Worlds. In the end, the take home earnings for creators in Horizon Worlds will be about 53% of the original selling price for their meta merch. Plus, creators still have to pay taxes on the remaining income.
Vivek Sharma says Meta's rate is still market competitive and that other platforms should be able to get their share. Apple also levies 30% platform fees on creators in its iPhone ecosystem and Meta has previously criticized Apple's fees as too aggressive.
At the moment, Horizon does not provide any elaborate advertising. The closest it has ever come up to that is via its recent Wendy's-themed world that was christened "Wendyverse."
At the moment, the platform's focus is monetization for its creators but the company has stated that it would want to explore ads in the future.
Meta is also introducing a "goal-oriented bonus program" to incentivize creators to utilize its tools and create engaging metaverse worlds. The fees listed above will not apply to the bonuses so creators will receive the bonus amounts in full. Sharma stated that the bonuses will be paid out according to the engagement level in a creator's world.
Creators on the platform that use the in-world purchases and take creator bonuses will also have to abide by Meta's VR conduct policy as well as for prohibited content policy for Horizon Worlds. Creators who fail to abide by these rules will be booted out of the program.
With the social app Horizon Worlds, Meta is aiming to win over new user groups into virtual reality. Roughly two years ago, the company launched the beta version of this creative immersive Quest online meeting place. Officially, Horizon Worlds is currently accessible only in the US and Canada and the minimum age is 18. The platform allows users to freely switch between the rooms and tinker with the small rooms, levels as well as the cosmetic objects directly inside the metaverse world.